A Cutting Edge Expense: High-End Knives in Your Kitchen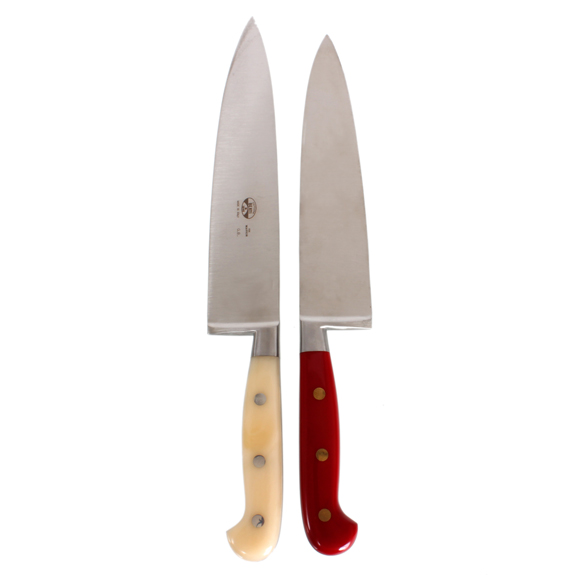 According to Florence Fabricant of the New York Times who wrote about High-End Knives yesterday, the demand for high-end kitchen cutlery is growing.
The customers of Didriks would certainly agree! One of the most popular knife series in the store are the famous Berti Knives, in particular, the Berti Chef's Knife. "The customers love the Berti," says Melissa of Didriks. "Especially the chef's knife with the red lucite handle. The color pops."
The Italian forgers at Coltellerie Berti have been hand making their knives since 1895. They still employ the same manufacturing technique of a single artisan being responsible for the making of a single knife from start to finish, blade to handle. So, each knife is ensured precise handle to tang fit, a key to the long lifespan of a knife and comfort during use. Because the knives are produced by a single craftsman, each come signed by the individual artisan and is considered a heritage item that is guaranteed for life.
To make storing these high-end knives easy and attractive, each knife comes with its custom fit magnetized wood block that can be stacked together and magnetically stay together like the traditional knife blocks. Ingenious, no? This individual sale of knives particularly appeals to the cutlery connoisseurs that shop in good kitchenware stores like Didriks. No longer are they interested in pre-chosen, prepackaged knife sets, but rather prefer custom selection.
Rich at Didriks is particularly impressed by "The real ox horn!" handled steak knife set . The ox horns are sized and shaped to fit each anchor tang of the knife seamlessly while the variations in the horn coloration adds great visual interest with the horn itself providing durable and sturdy hand-feel. At a little over $1000 for the set, it isn't for the semi-annual steak eater, but with a life-time guarantee and unrivaled craftsmanship, these knives will provide top function and gorgeous form for your family dinners and generations of dinners to come.