FREAKISHLY FABULOUS HALLOWEEN TABLE SETTINGS #2: Savory Buffet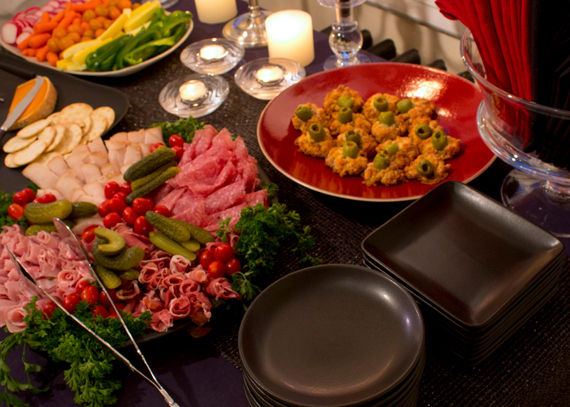 By Hairee Lee
For the Savory Table Melissa styled it as buffets. Like the Cocktail Bar she lit them with candles and stuck with her color scheme of black with touches of white and red.
She first covered the small dining table with Libeco Home Vence Linen Tablecloth-69" Square-Grape and Chilewich Lattice Table Runner-Caviar. The rich purple added just a bit of color to the predominantly black table setting and the lattice runner reflected the candlelight for variety of depth.
The large Jars Ceramics Maguelone Rectangular Platter was used to display the fabulous cheeses from American Provisions. The cheese knives used were Sabre Paris Nature Butter Spreader-Black for the soft cheese while Sabre Paris Natura Cheese Knife-Grey and Purple were used for the semi-firm cheeses.
For more about the cheeses and our interview with the owners of American Provisions, suppliers of the cheese platter, so to our blog on our Halloween Cheeses.
For the veggie platter or crudite, I wanted to show the colorful selection of vegetables in the order of rainbow colors: red, orange, yellow and green. The Jars Ceramics Plume Rectangular Dish was just the right size to show off the fabulous spectrum of organic hues.
To light the table, Melissa, used a variety of handle holders to make used of as much of the vertical space and add height to the table setting. She placed Simon Pearce Thetford Glass Votive Globe fitted with black candle sticks, Simon Pearce Thetford Votive for ground level lighting, and for height and Gothic drama Melissa chose the Match Pewter Five Flame Candelabra held white and red candlesticks.
Melissa's carved pumpkin--I'll call him Damian--was also lit and not only provided extra light but added a whole lot of spookiness.
My Monster Eyes (made of grated Muenster cheese, spicy Italian sausage, and a box of Bisquick) were set off beautifully by the bright red glazed Jars Ceramics Tourron Presentation Plate/Charger-Cherry. Beside that were the Libeco Home Vence Linen Napkin - Black and Cherry, dramatically displayed in their red and black glory in the Simon Pearce Dover Footed Bowl in large.
The deli meat platter with a selection of four meats (proscuitto, smoked turkey, cooked ham, and genoa salami) required an extra large platter. Melissa chose the Heath Ceramics Serving Platter with Rim - onyx. It as a rim with a raised lip that made the display of the meats easy by helping the first layers along the edge of the platter stand up. In order for the guests to served themselves Melissa laid out the Rosle Universal Tongs, which are great for entertaining.
And last but not least, the individual plates chosen were a selection of round and square plates: Heath Ceramics Plaza Salad Plate - onyx and Heath Ceramics Coupe B&B Plate - onyx. a rich, matte black that set off the food beautifully while staying with the theme colors of black, red, and white.