Have you Seen the Dinner Series?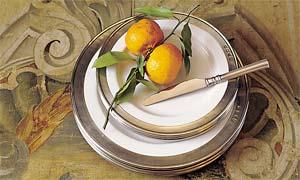 Have you seen Didriks' latest foray into the social media scene? We have recently created a blog called The Dinner Series. The blog features ideas and inspirations on cooking, entertaining, and dining with Didriks' lines of tableware, housewares and home furnishings. A recent feature showcased an autumn dinner at European Country Antiques of Cambridge which featured the cooking of David Harris and a beautiful table set with Libeco Linens, Simon Pearce glassware and Match Pewter dinnerware.
For our latest dinner, we decided to break out the good stuff. Match Pewter's Convivio dinnerware and Gabriella flatware came to mind immediately. For us, it's the perfect combination of clean design and fine, quality materials. And it has just the right amount of European flair to sit well on a table inside an antique store. We called up David Reiss, who founded Match in 1995, to ask him a few questions. As a designer, with a passion for Italy and the Italian tradition of artisanship, he has an intelligent and poetic perspective that carries through into every last piece of pewter Match makes. We're happy he was able to shed some light on his products and process.

Our latest dinner featured your pewter-rimmed Convivio plates. Tell us a little about them.

Convivio is the functional cousin of a decorative series of plates first produced by one of our factories thirty years ago, that had a pewter rim held in place by clips and a ceramic center hand painted with various floral designs. They were meant to be hung on a wall, whereas Convivio is designed to be used at the table. Convivio is very important to us and has really helped to focus our design energy on the tabletop, instead of just producing gift items.

Click here to read the entire article and see more great entertaining ideas from The Dinner Series...